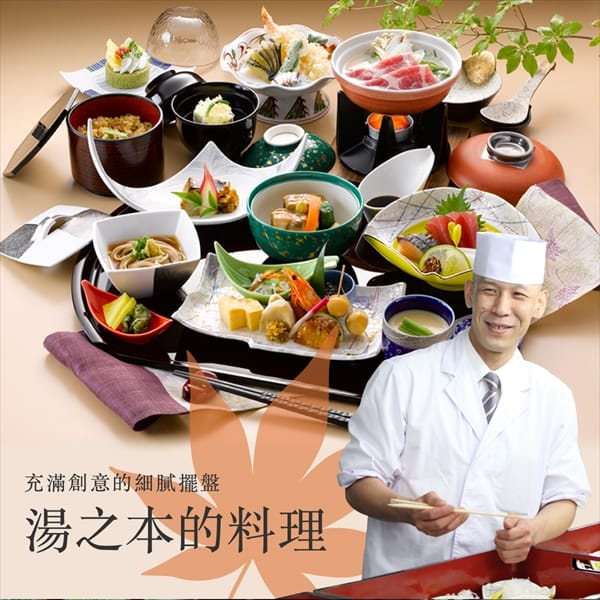 料理

28歲便獲得以厚生勞動大臣獎為首的各種獎項,
本溫泉旅館引以為傲的料理長以嶄新的創意以及細膩的擺盤
不斷創新出各種令人驚歎的新式日本料理。
很多人因鐘愛料理長的技藝,而多次前來光顧。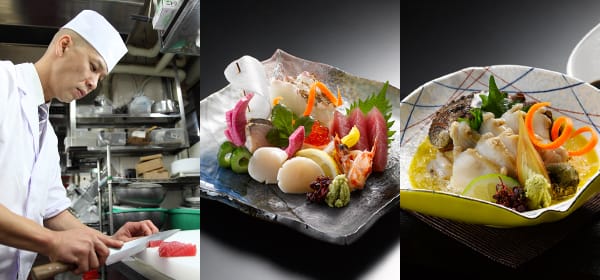 設施・客房

溫泉旅館湯之本,位於三重縣菰野町湯之山溫泉,是擁有私人溫泉的源泉旅館。
供您下榻的客房,可以獨享被御在所岳所環保的美景。
為讓您在本溫泉旅館渡過一段舒適寧靜的時光,我們全體服務人員將以最真摯的心靜候您的到來。
客房例

客房例
利用指南
●check in 15:00~;check out ~10:00
●針對開車前來的住客,本溫泉旅館會有專人指引至停車場。
●針對搭乘電車前來的住客,本溫泉旅館會派專人前往湯之山溫泉站提供接送服務。(需要提前預約)
溫泉

寬敞的浴殿,從窗口即可眺望到的壯麗鈴鹿山脈。
露天風呂可以遙望名古屋市區,讓您遠離塵囂的同時靜享美麗夜景。
舒適的鐳礦泉,讓您從心底得到放鬆。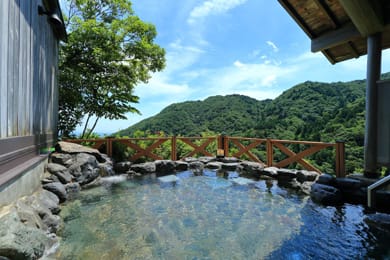 可以一覽鈴鹿山脈的自然風景以及名古屋市區風光。
這裡,夜景亦美不勝收。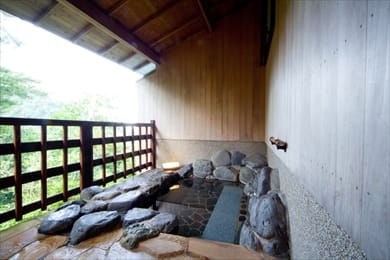 在貸切風呂中享受專屬與兩人的浪漫時刻。

提供微氣泡水療SPA的貸切風呂。
深受有小孩的家庭歡迎。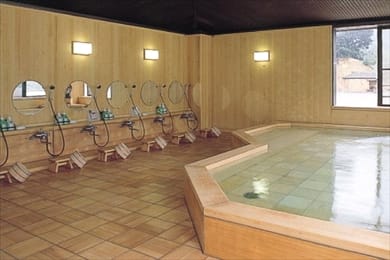 可以展望御在所岳的大浴场。
供您在宽敞的桧木风吕放松。
溫泉成分・療效
| | |
| --- | --- |
| 源泉名 | 湯之山溫泉 宏說湯(私人溫泉) |
| 泉質 | 單純溫泉(低張性弱鹼性低溫泉) |
| 療效 | 對美容、恢復疲勞、神經痛、動脈硬化、慢性消化器病、膽結石具有一定療效。 |

Movie Report
Private Open-air bath Version
交通
從中部國際機場出發
中部國際空港駅

搭乘名鐵特急約30分鐘

名鐵名古屋駅

搭乘近鐵特急約30分鐘

近鐵四日市駅

搭搭乘各停湯之山溫泉方向約30分鐘

湯之山溫泉駅

開車/搭乘計程車約6分鐘

溫泉旅館 湯之本
從關西國際機場出發
關西空港駅

搭乘特急京都方向約50分鐘

新大阪駅

搭乘東海道・山陽新幹線約50分鐘

名古屋駅

搭乘近鐵特急約30分鐘

近鐵四日市駅

搭搭乘各停湯之山溫泉方向約30分鐘

湯之山溫泉駅

開車/搭乘計程車約6分鐘

溫泉旅館 湯之本
從羽田機場出發
羽田機場國內線候機樓駅

搭乘快特成田空港方向約14分鐘

品川駅

搭乘東海道・山陽新幹線
約1小時30分鐘

名古屋駅

搭乘近鐵特急約30分鐘

近鐵四日市駅

搭搭乘各停湯之山溫泉方向約30分鐘

湯之山溫泉駅

開車/搭乘計程車約6分鐘

溫泉旅館 湯之本
510-1233三重縣菰野町菰野8497號
最近的車站:近鐵湯之山溫泉站(提供接送服務) 御在所纜車附近
搭乘近鐵在四日市站換乘湯之山線時,聯絡本溫泉旅館即可。
住宿計劃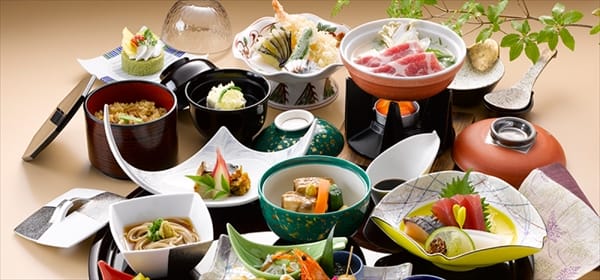 11,000日幣~(每位・含稅)
check in 15:00 ~19:30
check out    ~10:00
圖片僅供參考。
您可以在客房享用季節特產所烹製的晚餐會席料理。
您還可以選擇在一覽御在所岳山頂風光的露天風呂,或其它3種古風貸切風呂(另收費)
一邊傾聽潺潺溪流聲,一邊享受被稱為美人湯的溫泉。
Q&A
About the use of the hotel

Q.What time is check in and out?

Check in time is 3:00 pm, out is 10:00 am.

Q.About day use and lunch hours

Both room and lunch time are from 11:30 am to 2:00 pm (1:30 pm is last order time.)

Q.About barrier free

Building is not made to barrier free. There are steps and stairs.

Q.About rent of wheel chairs and beds

We have 1 wheel chair and 3 beds available for rent.

Q.Are there any items for cerebration?

We can arrange cake, flower, happy jacket and floor cushion, etc. so please consult with us.

Q.Is there Karaoke lounge

We have public lounge with Karaoke set.(8:00 pm~)

Q.Are there any amusement facilities?

We have ping pong table (need reservation).

Q.Are there coin laundries?

No. Can have it at 15 minutes away from hotel by car.
About the use of guest rooms

Q.Are there no smoking rooms?

No, but we can arrange ozone machine and deodorizer upon request.

Q.Can I bring in drinks?

Basically, no drinks are accepted to bring in. Certain fee is charged for brought in drinks. We ask to take all drinks back when you leave.

Q.Are there bathrooms in the room?

Toilet with shower is equipped, no bath tubs.
About hot spring

Q.Can I use bath only?

We accept day-use of bath taking (11:00 am to 4:00 pm).

Q.Can I use private bath by day-use?

We accept it from 11:00 am to 3:15 pm hours. Reservation is taken at reception desk only. No phone reservation is taken.

Q.Can I take baths 24 hours?

Public bath and open-air bath are both operated until midnight.

Q.Can pregnant persons use baths?

Yes, they can.
About meals

Q.Can I have dinner in the room?

Yes, we arrange dinner in your room so you can relax and enjoy it.
Based on the number of guests and kinds of menu we may arrange dinner in separate room.

Q.Are there restaurants in the hotel?

No. Please have dinner outside for those guests taking bed and breakfast plan and stay only plan.

Q.Do you take care of food allergies?

We do our best to answer the specific requests and please consult with us in details.

Q.Does dinner menu come in one time?

Because our dinner is Kaiseki course, meals come one by one, not in one time.

Q.Please let me know dinner time.

Dinner time is 6:00 pm, 6:30 pm, 7:00 pm and 7:30 pm.

Q.Are there other meals besides course menu.

We can arrange single meals and kids meals in the hotel. We have menu catalog in the room and at reception desk.

Q.Can I have breakfast in the room?

Breakfast is arranged as buffet at 3rd floor.

Q.Please advise breakfast time.

It starts 7:30 am until 9:30 am.
About access to hotel

Q.Are there shuttle bus services when coming by trains?

We have the service between the hotel and the Kintetsu Yunoyama Onsen Station, the terminal station from Yokkaichi Station,. Please call us for the arrangement from Yokkaichi station when you change train to Yunoyama Line. It takes about 8 minutes by bus between the Yunoyama Onsen station and hotel.

Q.Are there parking spaces?

Yes. We can accommodate large cars as well. Can have buses and please call us in advance.

Q.Does it snow during winter time?

Yes, it does. We accommodate temporary parking space at mountain foot so please park there and we will shuttle service. Please ask the service on the day of visit.
Others

Q.About internet

Can use free WI-FI service in the room.

Q.How long is gift shop open? Is there shipping service?

Gift shop opens from 7:00 am until 9:00 pm. We can arrange express delivery service, too.

Q.Do you sell tobaccos?

We sell them at reception desk. We have smoking area at the lobby.

Job Information
Looking for part-time workers to work at Hotel Yunomoto
Why don't you work with us at Hotel Yunomoto, just in front of the Gozaisho Ropeway depot?
Housewives, students working part-time as well as beginners are welcome for the staff.
Delicious meals are provided too!
We provide transportation to Yunoyama Onsen Station! It is safe even on snow days!
Preferential treatment for accommodation and shops are given.
You can get basic discipline manners.
Housewives and students, even beginners are OK!
Even one day a week, please consult us for working hours!
If you wish, there is a regular employee system after interview.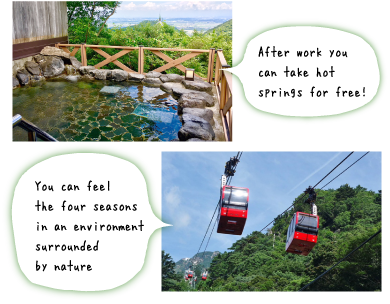 Looking for the following staff
Room clerk

Working hours
①6:00 ~10:00
②17:00 ~21:30
Hourly wage
①950 yen ~1,100 yen
②1,000 yen ~ 1,150 yen
*50 yen more for Sat. Sun. and Holidays
Treatment
Various social insurance equipped, partial payment for transportation expenses, lending uniforms, with regular employee appointment system available, with meals
Housekeeper

Working hours
9:30 ~14:00
Hourly wage
850 yen ~ 1,000 yen
*50 yen more for Sat. Sun. and Holidays
Treatment
Various social insurance equipped, partial payment for transportation expenses, lending uniforms, with regular employee appointment system available, with meals
Futon staff

Working hours
18:30 ~21:30
Hourly wage
850 yen ~ 1,000 yen
*50 yen more for Sat. Sun. and Holidays
Treatment
Various social insurance equipped, partial payment for transportation expenses, lending uniforms, with regular employee appointment system available, with meals
Wash place staff

Working hours
20:00〜22:00
Hourly wage
850 yen ~ 1,000 yen
*50 yen more for Sat. Sun. and Holidays
Treatment
Various social insurance equipped, partial payment for transportation expenses, lending uniforms, with regular employee appointment system available, with meals
Nighttime receptionist

Working hours
18:00 ~ 9:00 next day (actual working hours: 8 hours)
*Includes 5 hours of napping
One day a week ~ OK! Working hours negotiable!
Daily wage
10,000 yen
Treatment
Various social insurance equipped, partial payment for transportation expenses, lending uniforms, with regular employee appointment system available, with meals
Please send applications and ask questions by phone or e-mail.
Person in charge: Noji