3 selling pointsto Enjoy Yunoyama hot spring and the view of Mount Gozaisho
Cuisine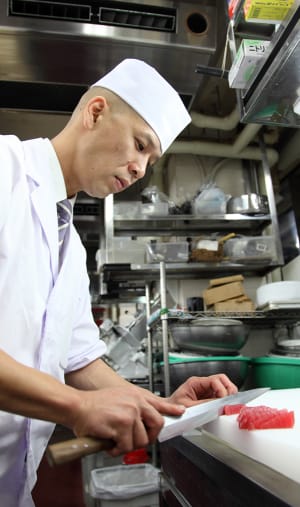 At the age of 28 years old, he has won numerous awards including the Minister of Health, Labour and Welfare's Award.
We proudly present you our head chef,
whose inventiveness and delicate ways of arranging dishes have made our Japanese cuisine full of creativity.
Many customers who are enchanted by his talent have become repeated customers.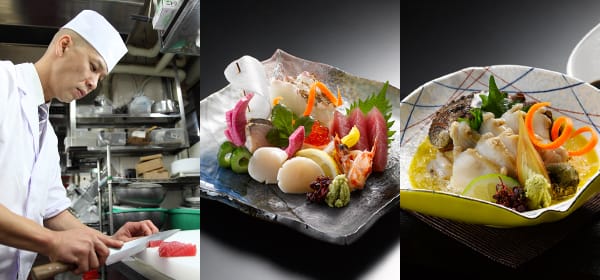 Room

Hotel Yunomoto owns a private hot spring which is flowing directly from Yunomoto Hot Springs, Komono.
The rooms we provide are surrounded by Mount Gozaisho where you can relax.
In order to let our customers enjoy the relaxing time here,
our staff welcome you warmly from the bottom our hearts.
Room example

Room example
Guidance
●Check in time 15:00~, check out time10:00
●Come by car: Our staff will show you to the parking area.
●Come by train: We will pick you up from Yunomoto Station. (Reservation needed)
Hot spring

Spacious bath room with the view of Suzuka Mountains from the window.
From open-air bath, you can enjoy the view of Nagoya city. The night view will make you forget the time.
Radium hot spring which is good to you skin can ease your mind as well.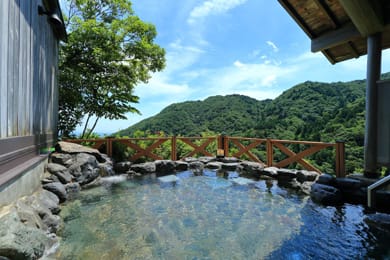 The view of natural Suzuka Mountains and Nagoya city can be seen.
Night view is a must-see as well.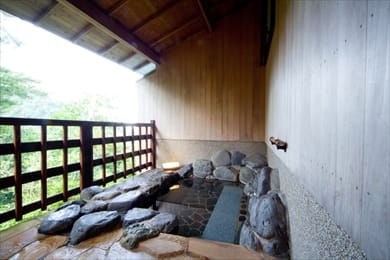 Enjoy your private time with your companion.

Private bath with micro bubbles.
Available for kids. Very popular with families.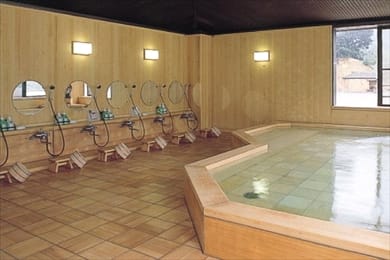 A big public bath with a view of Mount Gozaisho.
Providing spacious Japanese cypress bathtub where you can relax.
Hot spring effects and composition
| | |
| --- | --- |
| The source of spring water | Yunoyama Hot Springs, Kousetsu Spring (private hot spring ) |
| Spring Type | Simple hot spring (hot spring with a hypotonic low alkaline level) |
| Effects | Have positive effects on skin, fatigue recovery, neuralgia, arteriosclerosis, chronic digestive organs disease and gallstones. |

Movie Report
Private Open-air bath Version
Access
From Chubu Centrair International Airport
Central Japan International Airport Station

Meitetsu Express: 30 minutes

Meitetsu Nagoya Station

Kintetsu Express: 30 minutes

Kintetsu Yokkaichi Station

Local stop towards Yunoyama Onsen:
30 minutes

Yunoyama Onsen Station

By Car or taxi: 6 minutes.

Hotel Yunomoto
From Kansai International Airport
Kansai International Airport Station

Express towards Kyoto: 50 minutes

Shin-Osaka Station

Tokaido Shinkansen and Sanyobr
Shinkansen: 50 minutes.

Nagoya Station

Kintetsu Express: 30 minutes

Kintetsu Yokkaichi Station

Local stop towards Yunoyama Onsen:
30 minutes

Yunoyama Onsen Station

By Car or taxi: 6 minutes.

Hotel Yunomoto
From Haneda Airport
Haneda Airport Domestic Terminal Station

Limited Express towards Narita
International Airport: 14 minutes

Shinagawa Station

Tokaido Shinkansen and Sanyo
Shinkansen: 1 hour 30 minutes

Nagoya Station

Kintetsu Express: 30 minutes

Kintetsu Yokkaichi Station

Local stop towards Yunoyama Onsen:
30 minutes

Yunoyama Onsen Station

By Car or taxi: 6 minutes.

Hotel Yunomoto
From other sightseeing spots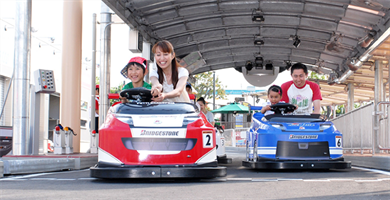 By Car: 50 minutes.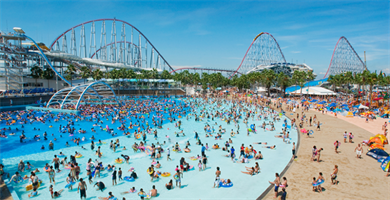 By Car: 45 minutes.
8497 Komono, Komono-cho, Mie-gun, Mie-ken 510-1233
Nearest station: Kintetsu Yunoyama Station (Courtesy bus service available)
near from Gozaisho Ropeway station.
Please contact us when you transfer to Kintetsu Yunoyama Line at Yokkaichi Station.
Plan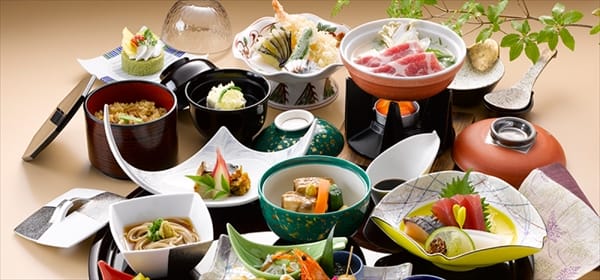 Starting from 11,000 Yen~(per person・tax included)
Check-in time 15:00-19:30
Check-out time    -10:00
Image is for illustration purposes.
In-Room Dining
Breakfast Buffet
WIFI Internet available in room
Enjoy your luxurious Japanese banquet dishes in your own suite.
Hot spring can be enjoyed at the open-air bath with the view of NAGOYA City.
Two types of private bath are provided (additional fee) where you can listen to the murmur of the stream.
We are hoping the hot spring will make you comfortable and relaxing.
Q&A
About the use of the hotel

Q.What time is check in and out?

Check in time is 3:00 pm, out is 10:00 am.

Q.About day use and lunch hours

Both room and lunch time are from 11:30 am to 2:00 pm (1:30 pm is last order time.)

Q.About barrier free

Building is not made to barrier free. There are steps and stairs.

Q.About rent of wheel chairs and beds

We have 1 wheel chair and 3 beds available for rent.

Q.Are there any items for cerebration?

We can arrange cake, flower, happy jacket and floor cushion, etc. so please consult with us.

Q.Is there Karaoke lounge

We have public lounge with Karaoke set.(8:00 pm~)

Q.Are there any amusement facilities?

We have ping pong table (need reservation).

Q.Are there coin laundries?

No. Can have it at 15 minutes away from hotel by car.
About the use of guest rooms

Q.Are there no smoking rooms?

Yes. We have all no smoking rooms.

Q.Can I bring in drinks?

Basically, no drinks are accepted to bring in. Certain fee is charged for brought in drinks. We ask to take all drinks back when you leave.

Q.Are there bathrooms in the room?

Toilet with shower is equipped, no bath tubs.
About hot spring

Q.Can I use bath only?

We accept day-use of bath taking (11:00 am to 4:00 pm).

Q.Can I use private bath by day-use?

We accept it from 11:00 am to 3:15 pm hours. Reservation is taken at reception desk only. No phone reservation is taken.

Q.Can I take baths 24 hours?

Public bath and open-air bath are both operated until midnight.

Q.Can pregnant persons use baths?

Yes, they can.
About meals

Q.Can I have dinner in the room?

Yes, we arrange dinner in your room so you can relax and enjoy it.
Based on the number of guests and kinds of menu we may arrange dinner in separate room.

Q.Are there restaurants in the hotel?

No. Please have dinner outside for those guests taking bed and breakfast plan and stay only plan.

Q.Do you take care of food allergies?

We do our best to answer the specific requests and please consult with us in details.

Q.Does dinner menu come in one time?

Because our dinner is Kaiseki course, meals come one by one, not in one time.

Q.Please let me know dinner time.

Dinner time is 6:00 pm, 6:30 pm, 7:00 pm and 7:30 pm.

Q.Are there other meals besides course menu.

We can arrange single meals and kids meals in the hotel. We have menu catalog in the room and at reception desk.

Q.Can I have breakfast in the room?

Breakfast is arranged as buffet at 3rd floor.

Q.Please advise breakfast time.

It starts 7:30 am until 9:30 am.
About access to hotel

Q.Are there shuttle bus services when coming by trains?

We have the service between the hotel and the Kintetsu Yunoyama Onsen Station, the terminal station from Yokkaichi Station,. Please call us for the arrangement from Yokkaichi station when you change train to Yunoyama Line. It takes about 8 minutes by bus between the Yunoyama Onsen station and hotel.

Q.Are there parking spaces?

Yes. We can accommodate large cars as well. Can have buses and please call us in advance.

Q.Does it snow during winter time?

Yes, it does. We accommodate temporary parking space at mountain foot so please park there and we will shuttle service. Please ask the service on the day of visit.
Others

Q.About internet

Can use free WI-FI service in the room.

Q.How long is gift shop open? Is there shipping service?

Gift shop opens from 7:00 am until 9:00 pm. We can arrange express delivery service, too.

Q.Do you sell tobaccos?

We sell them at reception desk. We have smoking area at the lobby.

Job Information
Looking for part-time workers to work at Hotel Yunomoto
Why don't you work with us at Hotel Yunomoto, just in front of the Gozaisho Ropeway depot?
Housewives, students working part-time as well as beginners are welcome for the staff.
Delicious meals are provided too!
We provide transportation to Yunoyama Onsen Station! It is safe even on snow days!
Preferential treatment for accommodation and shops are given.
You can get basic discipline manners.
Housewives and students, even beginners are OK!
Even one day a week, please consult us for working hours!
If you wish, there is a regular employee system after interview.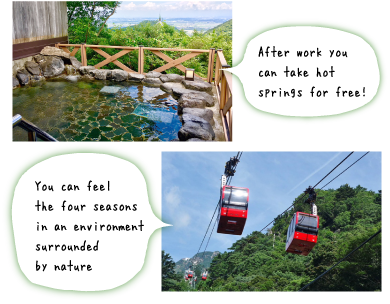 Looking for the following staff
Room clerk

Working hours
①6:00 ~10:00
②17:00 ~21:30
Hourly wage
①950 yen ~1,100 yen
②1,000 yen ~ 1,150 yen
*50 yen more for Sat. Sun. and Holidays
Treatment
Various social insurance equipped, partial payment for transportation expenses, lending uniforms, with regular employee appointment system available, with meals
Housekeeper

Working hours
9:30 ~14:00
Hourly wage
850 yen ~ 1,000 yen
*50 yen more for Sat. Sun. and Holidays
Treatment
Various social insurance equipped, partial payment for transportation expenses, lending uniforms, with regular employee appointment system available, with meals
Futon staff

Working hours
18:30 ~21:30
Hourly wage
850 yen ~ 1,000 yen
*50 yen more for Sat. Sun. and Holidays
Treatment
Various social insurance equipped, partial payment for transportation expenses, lending uniforms, with regular employee appointment system available, with meals
Wash place staff

Working hours
20:00〜22:00
Hourly wage
850 yen ~ 1,000 yen
*50 yen more for Sat. Sun. and Holidays
Treatment
Various social insurance equipped, partial payment for transportation expenses, lending uniforms, with regular employee appointment system available, with meals
Nighttime receptionist

Working hours
18:00 ~ 9:00 next day (actual working hours: 8 hours)
*Includes 5 hours of napping
One day a week ~ OK! Working hours negotiable!
Daily wage
10,000 yen
Treatment
Various social insurance equipped, partial payment for transportation expenses, lending uniforms, with regular employee appointment system available, with meals
Please send applications and ask questions by phone or e-mail.
Person in charge: Noji